Via Ina Garten, The
Barefoot Contessa
, a national treasure of the Food Network fame.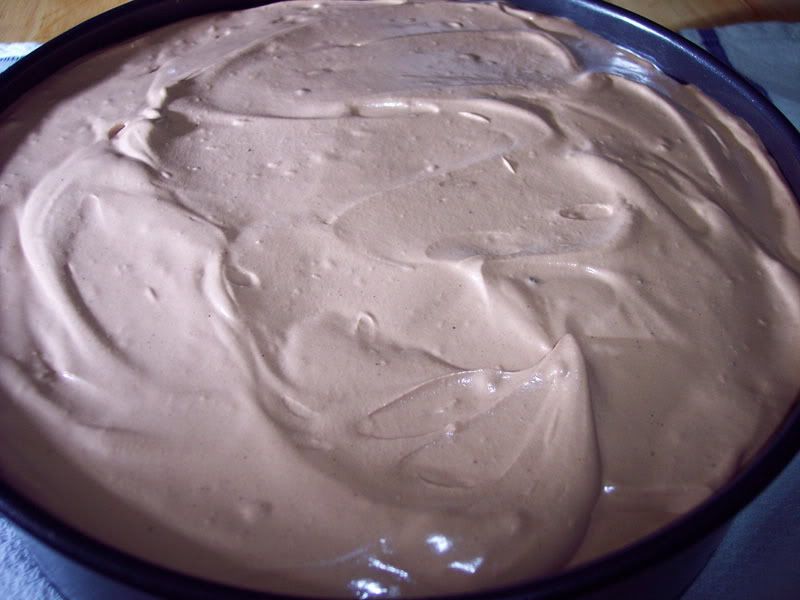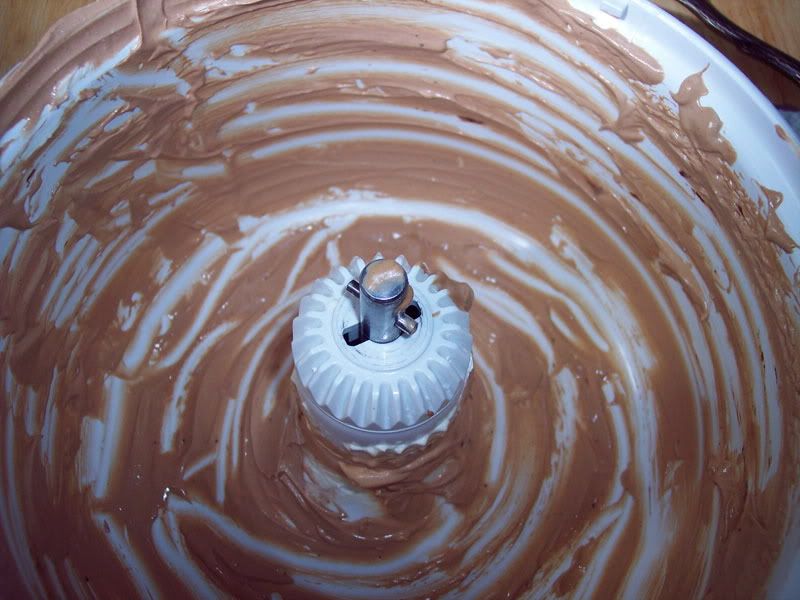 I licked the bowl like a dog. Like a dog with no manners at all. Like a dog with no manners who completely licks finished a bowl of beef gravy. I do this because there was nobody here to ridicule or to stop me. You can see how that central post in the bowl would present a problem for sticking my face all the way in there. That's why I have chocolate drying in my hair and on my eyebrows and cheeks and in my ears. I can't get it all off. Cats are following me around trying to get all up in my face to lick me. They're so annoying. OK, I might have made up this whole paragraph. I used a spoon.
Developed at Ina's shop in the Hamptons, New York, here's the recipe for the cheesecake she called
The Money Maker
. It wasn't called that openly, of course, it was called that in private between her and her shop's co-owner and always with a mischievous giggle. Publicly the cheesecake was called something like Chocolate Cheesecake or some other name sufficiently innocuous that didn't hint at the hideous profits this cake brought in for the shop. It went for something like $40.00 per cake, or perhaps it was $140.00, I forget, but it was outrageous and the good citizens who stalk the easternmost area of the southern fork shore of Long Island are ever impervious to cost when it comes to the subject of their own catering. A helicopter ride around the area will demonstrate why this is so.
Try this cheesecake sometime when you feel like being extra good to yourself. And by good, I mean bad. You will not be disappointed.
~~~~~~~~~~~~~~~~~
For the crust:
1 1/2 cups graham cracker crumbs (10 crackers)
5 tablespoons unsalted butter, melted
1 teaspoon ground cinnamon
For the filling:
5 ounces bittersweet chocolate
1 tablespoon instant espresso coffee
1 3/4 pounds cream cheese, at room temperature (I didn't bother with room temperature because I wanted to get on with it. I just made sure it turned fluffy. Plus I added hot coffee and warmed chocolate)
1 cup granulated sugar
1/4 cup cornstarch
1 teaspoon pure vanilla extract
1/4 teaspoon almond extract
1/2 teaspoon kosher salt (1/2 teaspoon of table salt would be too much by double)
3 extra-large eggs, at room temperature (I used four regular eggs)
1/2 cup sour cream, at room temperature
For the ganache:
1/4 pound semi-sweet chocolate
1/4 cup heavy cream
Preheat the oven to 350 degrees F.
To make the crust:
Place the graham cracker crumbs, melted butter and cinnamon in a food processor fitted with a steel blade and pulse until combined. Pour into a 9-inch springform pan. With your hands, press the crumbs into the bottom of the pan. Bake for 12 minutes. Cool to room temperature. Meanwhile, chop the bittersweet chocolate and place it in a heat-proof bowl set over a pan of simmering water. Add the espresso and stir until just melted. Set aside until cooled to room temperature. (I put couverture chocolate discs into the microwave and heated until they melted, carefully watching them like a chocolate-watching hawk the whole time which turned out to be 1 minute 45 seconds.)
To make the filling:
Cream the cream cheese, sugar, cornstarch, vanilla and almond extracts and salt in the bowl of an electric mixer fitted with a paddle attachment on medium-high speed until light and fluffy. Reduce the speed of the mixer to medium and add the eggs, 1 at a time, mixing well. Scrape down the bowl and beater, as necessary. With the mixer on low, add the sour cream, and the cooled chocolate mixture. Mix thoroughly and pour into the cooled crust.
Bake for 1 hour. Turn the oven off and allow the cake to sit in the oven with the door opened wide for 1 1/2 hours. Take the cake out of the oven and allow it to sit at room temperature, until completely cooled.
For the ganache:
Finely chop the semisweet chocolate and place it in a heat-proof bowl set over a pan of simmering water. Add the cream and stir until just melted. Set aside until cooled to room temperature.
Remove the cake from the springform pan by carefully running a hot knife around the outside of the cake. Leave the cake on the bottom of the springform pan for serving. Drizzle the ganache over the top of the cheesecake.
~~~~~~~~~~~~~~~~~
This time I used a water bath because the last time the cake cracked, not a problem because it's covered with ganache anyway, but I hoped to avoid that this time because I'm neurotic that way. This involves wrapping the pan with aluminum foil to prevent the spring-form pan from allowing in a little water from the ban marie.
The ban marie, it failed.

Le boo. Le hoo. Le boo hoo hoo hoo.

I weep.

I wipe away my tears.

I compose myself and hold my chin up high. Sniff.

Who cares? I cover this obscene crack with ganache and pretend I planned the whole thing.