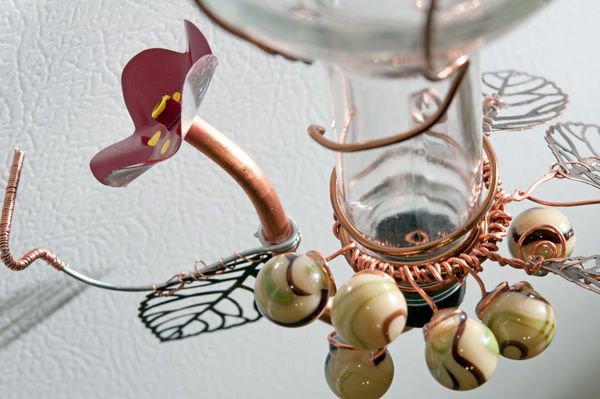 The above photo is reversed.
The bottle is not adjusted. It can be removed from the basket. The marbles and leaves on the bottom can screw off the bottle. It's one lone strand of copper not soldered in that shape. It's loose and can twirl around.
This feeder is gone now but I don't know where it will end up. Phoenix Arizona, Orange County California, or Tahoe California. It depends on who Joe gives it to. I know all three people and I like them all real well, so there's that.
Edit:
It stayed with the first person. Phoenix Arizona. The birds are gone now but they'll be back to nest there in a little orange and grapefruit orchard. The person wrote and said they are delighted.
I was wondering about that, imagining it offered and rejected then offered again to a second person and rejected again, and the foisted on a third person. Here's a thing that you will have, now take it, but happily it didn't turn out like that.
update: Adopted, Phoenix Arizona.